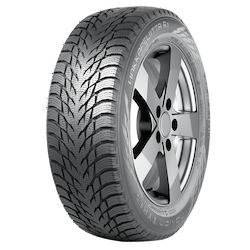 It is important to use winterand snow tires also for your SUV. Some people might overlook this fact as the normal SUV all-season tires look like they can manage any type of driving condition. There is, however, a big difference between SUV all-season tires and SUV winter tires, as the SUV winter tires have been developed and optimized for cold weather conditions and with a tread that can create grip on snow and ice. They can also handle the tricky conditions caused by melting snow, i.e., slush.
SUVs and light trucks are heavier than normal passenger vehicles and, therefore, will require very good tires to ensure that you can get the vehicle to stop within an adequate distance when you brake. If you drive in winter conditions with all-season tires, you will not have this adequate distance. You, therefore, need to select winter and snow tires that are both designed for SUVs and large vehicles and that should be approved for winter use. This leaves you with the dedicated winter tires that are available both as studded and non-studded and are meant to be used only during the cold winter season and then changed to all-season tires, and you have the all-weather tires. All options are available also for larger vehicles.
If you drive an electric SUV or hybrid, you need to make sure that the options that you consider are recommended for this use. If you select tires that are not indicated for this use, the tires will most likely wear out faster than intended as the weight of an electric or hybrid is higher than for a normal SUV. Tires that are recommended have taken into account the higher weight, and the tires can therefore handle the higher wear and are often developed with low rolling resistance.
The original inventor of winter tires, Nokian Tyres, has recently launched a new series of studded winter tires that are developed for the harshest conditions, and they also have a version that is made for electric and hybrids. These are top of the line when it comes to winter tires. The Nokian Hakkapeliitta 10 have the best possible grip in winter conditions and can handle icy surfaces with the best grip. They come with their double-stud technology, which ensures the best grip on both snow and ice. Since they have also placed studs on the shoulder area, they can keep an excellent grip when the vehicle is turning and changing lanes.
For electric vehicles, they have the Nokian Hakkapeliitta 10 EV, which will make sure that you have studded tires that are made for this use case. The studs can provide excellent grip even for heavier vehicles, and the rubber compound has been made with low wear taken into consideration. These tires should be combined with premium SUV all-season tires for the warm seasons, and they should be mounted as the winter is approaching. These tires will outperform all-season tires as the temperature drops below 45°F.
For more information regarding SUV winter and snow tires, visit: https://www.nokiantires.com/