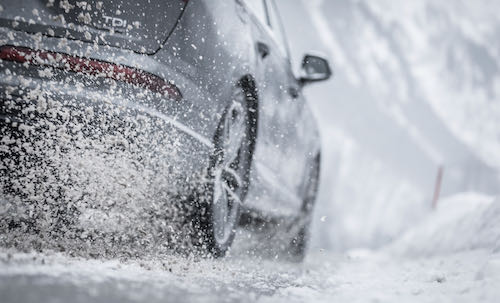 When buying tires for your SUV you need to consider how you will be driving your SUV. SUV's have become very popular, and many people own SUVs for other reasons than their intended use. Let's face it most young couples prefer to drive the kids and their friends around in a SUV than in a minivan. This however changes the kind of tires that are needed for your SUV. In other words, if you aren't planning on going 4-wheeling or up steep mountains then you probably don't need such aggressive tread on your tires. If you are mainly driving on city roads or freeway miles to take the kids to their soccer games, then tires like SUV all-season tires with low rolling resistance are probably a better choice. This is because all-season tires have less aggressive tread and thereby lower rolling resistance which translates into better gas milage and longer lasting tires.
If you live in an area with severe winter weather and you plan on taking your SUV up in the mountains or day trips to the snow, then you would be better off with all-weather tires that have the "Three Peak Mountain Snowflake" emblem which signifies they have met required performance criteria in snow testing. This is important especially since SUV's are larger and heavier than regular passenger cars so therefore things like grip and traction are important. Depending on where in the United States you live depends on what kind of tires you should consider. This is because if the area you live has severe winters then you need you to decide if you want to invest in either all-weather tires or winter tires.  This is because only these two types of tires have the severe snow service rating. Keep in mind the fact that the SUV has 4-wheel drive which only is an advantage in acceleration and not in braking so if you will be driving in severe winter weather it is still important to use tires that are severe snow service-rated.
When shopping for tires it is always best to follow the manufacture's recommended tire dimensions for your make and model SUV to assure proper braking and handling of the SUV. Dimensions of the tires also play a role in traction and hydroplaning protection. Narrower tires being better at redirecting water then wider tires whereas wider tires offer more traction. This however only holds true if your tires are of good quality and allow for a good grip on the road. If in the market for SUV all-weather tires and the recommended tire dimensions are 275/65R18 then you would need 275/65R18 all-weather tires as this assures the best handling of your SUV.
Once the decision has been made what tires to get according to what kind of driving you will be doing and what kind of weather conditions you will be encountering then it is important to find good quality tires.
For more information on which SUV tires to choose, visit https://www.nokiantires.com