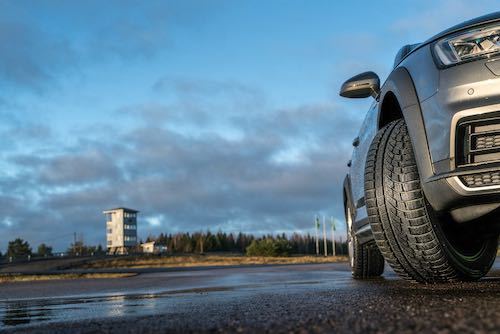 With all-weather tires, you are ready for winter as all-weather tires like snow and winter tires have met the same criteria in snow testing and therefore hold the same "Three Peak Mountain Snowflake" emblem. The severe snow service rating allows all-weather tires to handle safely on both snow and ice. They are allowing drivers with all-weather tires to drive on all road surfaces without worrying about the forecast.
The Nokian Norman Solstice all-weather tires incorporate innovations like the snow claws, which are diagonal grooves in the tire's tread block, helping to give extreme winter grip. Groove lifts help the car drive in a stable and controlled manner while preventing rocks from lodging in the tire's grooves. Both stability and driving comfort is improved with this more aggressive tread pattern. The silent groove design makes for a surprisingly quiet drive as these grooves help reduce air resistance while also cooling the surface so you can enjoy more extended tread wear. The Nokian Tyre's patented "Driving safety indicator" lets you know exactly how much tread is left on the tire, so you know when to change the tires.  Newer versions of the Nokian all-weather tires have improved winter grip allowing high performance as well as all-season handling, high performance, and reliable winter grip to make it safe in all seasons, even winter. The Nokian Tyres uses technical innovations to improve safety and uses over half of its product development resources on testing. Testing for all-weather and winter tires is done in authentic conditions in Ivalo, Finnish Lapland, situated north of the arctic circle.
It is essential to replace tires when the tread wears down and always replace tires in pairs using the right tire dimensions. If replacing 265/70/17 all-weather tires, then you should make sure to use the same tire dimensions on your new tires. Appropriate size tires help reduce rolling resistance and therefore help save on fuel as well as allowing for the best handling of your car. In addition, you maintain the proper gear ratio so not to put strain on the transmission, something that can be a problem when using too large of tires.
With innovations allowing all-weather tires to perform well snow and ice, it is no wonder they have become such a popular tire, allowing all-year-round use. All-season tires can be kept on all year round in areas where the weather stays mild throughout the year—so depending on the climate where you live, you can choose a year-round tire that will suit your needs. Innovations in both all-season and all-weather tires allow for excellent hydroplaning protection while remaining low rolling resistance tires, thereby offering fuel savings, even without reducing the grip and traction.
For more information on which all-weather tires to choose, visit https://www.nokiantires.com/